4 things you need to know when buying new hockey skates: #4 may surprise you!
Hockey Skate Buying Guide
It's the off-season and for many that means new hockey skates for next season.  Here are the top 4 things to consider when you're looking at the best VALUE for your money in terms of both protection and performance.
1) Budget – Level of hockey
You need to decide what the fundamental needs are for your hockey skates.  Are they going to be used for only 1 season or multiple seasons?  Are you playing AAA and on the ice 6 times a week, or is hockey your form of exercise once a week?  As you increase your budget, you increase your options across all brands
Beginner $100-$399
Intermediate $400 - $699
Advanced/Pro $700+
Recommendation: Stay within your budget. There are other ways to get great value than by spending an extra $100 on the next level up in skates.
2) Fit
While there is little proof showing advances in performance for higher-priced skates, there is an improvement in materials used and the protection provided.  More carbon fiber, protective padding on the tongue, and comfort are some of the main benefits of higher-end skates.
Question: Are lighter skates going to help me skate faster?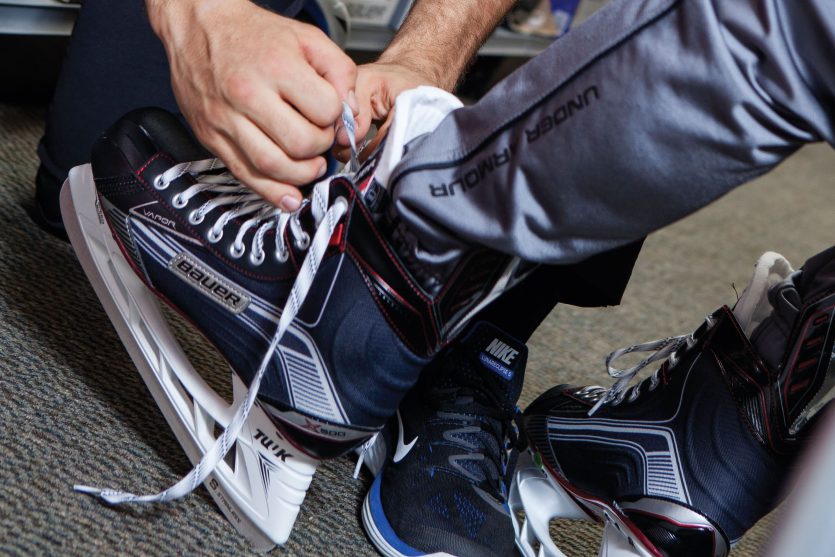 Answer: No. 
There is no scientific evidence that having lighter hockey skates makes skaters faster.  If this were true, everyone would practice with ankle/skate weights, which rarely happens at the highest levels of hockey.
For improved performance, your skates need to fit snugly so there isn't any excess movement. There shouldn't be any space on either side of your foot, or at the front. A local shop pro will help you find the right fit.
*If you need blades for any of these skates, see the Bladetech shop.
Go to your local shop and ensure you ask the right questions about the socks you should wear, techniques to lace up the skates tightly without cutting off circulation, and getting the proper insoles in your hockey skates.
Recommendation: Intermediate skates are almost as good as top level hockey skates in terms of protection and performance. Pay attention to the differences as you move up each level.
**Note: All of the differences will be in the boot – the holder and skate blade on each hockey skate will be the same in most cases.
3) Comfort
Comfort is the most important aspect when it comes to performance and enjoying hockey.  Wearing a hockey skate that fits and is comfortable positively impacts your performance because you won't be in pain and you won't be thinking about your new hockey skates.  This allows you to keep your head in the game.
Recommendation: Always prioritize comfort for you or your young player. The trade-off of comfort for perceived increase in performance is not worth the pain.
4) Upgrade your hockey skate blades
No surprise we would make this suggestion, but here is why:
There is no better value add for performance than upgrading the steel that touches the ice.
For example, Bladetech Hockey blades have documented test results in improved performance (unlike any other hockey skates or steel blades) across all players, no matter their skating level or age.
Recommendation: Instead of paying $100 more for the next level up in skates with the exact same holder, steel and performance, spend that $100 on upgraded replacement steel for an overall improved hockey skate.
For advice or recommendations, reach out to us at sales@bladetechhockey.ca.
---